SmartOptionsTradingTool-(Live)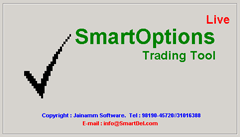 The derivatives market is not for the faint-hearted, or for the ill equipped. As the National Stock Exchange pioneers the trading of options in 55 stocks, you need a top-end, cutting edge digital assistant to help fashion your strategy, and minimize your risks.
SmartOptions is India's first leading edge digital assistant for your options trades.
Features :
Online Market Feeds From NEAT Terminal. [No Delay]
4 Different Types Of Calculator - Single Strike / Multiple Strike / Probability / Stimulations.
Accurate projections based on probability and simulations.
Pay-Off Calculator - Calculates Profit/Loss on each & every transactions (Options & Futures) with absolute & annualised Returns on Investments.
Powerful Query Module For Options & Futures. 50+ Queries for in depth market analysis.
( Volume Queries / Increase or Decrease in Open Interest / Put-Call Ratio / Historical Volatality / Implied Volatality / All Greeks / Open Interest Value / Futures at Discount or Premium / Combined Open Interest / Combined Volume )
Access to actual historical data of the National Stock Exchange and in all 55 stocks in which options are allowed ( as well as the index derivative ).
Live Strategy Guide - Depending upon market outlook select the best strategy ( 35+ strategies ) with Payoffs & Net Cash flow.
Live Market Watch.
Market Alerts.