SmartOptionsTradingTool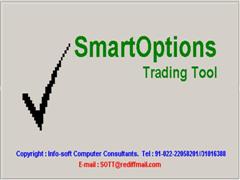 The derivatives market is not for the faint-hearted, or for the ill equipped. As the National Stock Exchange pioneers the trading of options in 41 stocks, you need a top-end, cutting edge digital assistant to help fashion your strategy, and minimize your risks.
SmartOptions is India's first leading edge digital assistant for your options trades.
Here is what it does for you:
Accurate projections based on probability and simulations.
Interactive Strategist --- Input views on market direction and risk profile to get high quality advice on appropriate transaction strategies.
Access to actual historical data of the National Stock Exchange and in all 41 stocks in which options are allowed ( as well as the index derivative ).
High interactivity : all queries on data.
High user friendliness for all intermediaries : Brokers, dealers, traders, professionals, investors etc.
Assessment of whether option is overvalued or undervalued by the market through top-end number crunching.